Cutty sark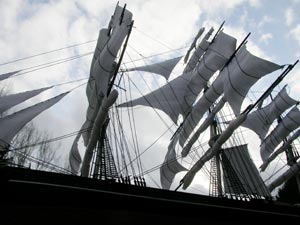 Ship name: Cutty Sark
Ship type: Clipper
Build date: 1869
Scale: 1/160
This is a scale model of the famous tea clipper Cutty Sark. It was made in 2004 and took 6 months to complete.
The material is a 'professional grade scale model' from Academy
It contains 250 pieces, 35 sails, more than 200 ropes knotted as in reality. Every piece is painted in the most accurate color. All the pieces are cemented. Extra material needed for the boat: cloth for the sails, knifes, paint, brushes, cement, glue, hair. Material needed for the final presentation: sand, shells, wood, plexiglas and glue
The real ship
The real Cutty Sark still exists. She is now preserved in dry dock at Greenwich in London since 1954. It was originally build in 1869 in Scotland and was launched at sea on 23 November 1869. It was the fastest ship at that time and used for tea trade with China. From China (Woosung) to England took around 120 days.
The official site: http://www.cuttysark.org.uk/
Images