On this page you can find documents to help solve
Kakuro, Killer sudoku and Killer sudoku product puzzles.
Kakuro puzzles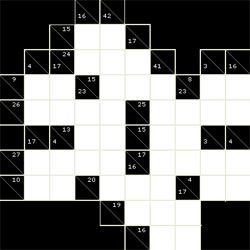 Like sudoku, kakuro is a crossword puzzle using numbers.
The rules
Fill in the squares using the numbers 1 to 9.
Do not repeat a number in consecutive boxes.
The total of each consecutive box must be equal to the number attached to that row or column.
To help solving these puzzles, I made a .pdf document containing all possible combinations. It can be downloaded from here: download pdf file 1 Version 1.3
The second document contains only the combinations with one solution (taken from the document above). It also contains the numbers that never occur for a given total. It can be downloaded from here: download pdf file 2
A very good web page containing a database of kakuro puzzles classified by difficulty: http://www.menneske.no/kakuro/eng/